(Family Features) Elevate summer desserts all season long with versatile, refreshing ingredients that can transform classics like ice cream into a new treat that's bound to become a family favorite.
This Creamy Vegan Grape Ice Cream offers a dairy-free alternative to traditional summer sweets and is powered by Grapes from California. Simply puree grapes, combine with oat coffee creamer and let your freezer do the work. The result is a perfect balance of cold, fruity goodness in a silky-smooth bite.
Crisp, juicy and sweet, grapes also provide flavor and texture in a wide range of recipes. As an easy, portable and healthy snack, grapes can also be frozen for a simple, standalone dessert ideal for summer occasions.
Find more ways to cool off in the heat by visiting GrapesFromCalifornia.com.
Watch video to see how to make this recipe!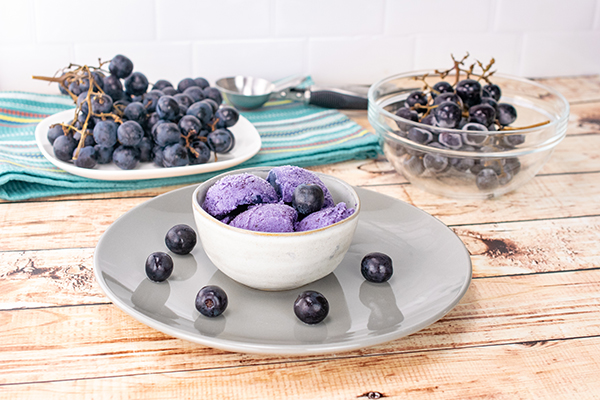 Creamy Vegan Grape Ice Cream
Prep time: 20 minutes
Cook time: 10-15 minutes, plus 6-8 hours freeze time
Servings: 8 (1/2 cup per serving)
1 pound stemmed black Grapes from California
12 ounces vanilla oat coffee creamer, well chilled
12 ounces unsweetened oat coffee creamer, well chilled
In high-speed blender, puree grapes until smooth. Transfer to medium saucepan and bring to simmer. Reduce heat to low and cook 10-15 minutes, or until reduced to 1 cup. Cover and refrigerate until well chilled.
Stir creamer into pureed grapes and pour into stainless steel mixer bowl. Using stand mixer, mix well. Cover and freeze 6-8 hours or overnight.
Substitution: For lighter color, use 3/4 pound black grapes and 1/4 pound red.
Note: Make sure stainless steel bowl is well chilled or frozen before making ice cream.
Nutritional information per serving: 140 calories; 0 g protein; 22 g carbohydrates; 6 g fat (39% calories from fat); 0 g saturated fat; 0 mg cholesterol; 45 mg sodium; 1 g fiber.