(NewsUSA)

- "This is a work of fiction -- really." It's hard for poet Pasquale Trozzolo to convince us that his brilliant "UN/Reconciled:" (Kelsay Books) is not intended to portray any person, or combination of persons living or dead. Attribute that to the passion dripping from each vignette in this marvelous collection of 29 poems on a journey to the center of that most complex human experience: romantic love gone off.  

The collection reminds couples that relationships take work, even when in a powerful love. It is essential to capture the magnetic tension experienced in the first weeks and months of the relationship and find ways to keep discovering it, even as the mundane of ordinary life interferes.  
"I'm hoping this little story will remind people that all love stories have happy starts filled with excitement and that positive tension that is hard to describe," Trozzolo says. "We need to continue to work to find ways to capture that excitement, even when 50 years go by. Not every relationship is worth saving, but some are. And all of them are worth remembering."  
Trozzolo is an entrepreneur and founder of Trozzolo Communications Group, one of the Midwest's leading advertising and public relations firms. He also has spent time as a racecar driver and grad school professor. Then, just before the pandemic, he found himself semi-retired and with what he says was too much time on his hands.  
"I began living out as many retirement clichés as possible," he recalls. "Why not try poetry? The problem is, after a lifetime of ignoring it -- I fell in love. I hit the books to learn, and read several textbooks with words like villanelle, pantoum and sestina. And I enrolled in online poetry classes at Oxford University and Stanford."  
Here's an example of feelings conveyed in one of the poems from "UN/Reconciled:"  
Our third anniversary -- you greeted me at the door.    
How Was Your Day?    
All I hear are low notes and misery.
Tell me instead of boats and clouds,
of speed and sex and dreams and bad ideas.
Tell me without the clutter. Be impersonal.
Shocking. Off-kilter. Abduct me with a dangerous tale.
Tell me you like the way I hold my drink.
Touch my hand. Whisper something stirring.  
Make me nervous. Be my stranger.  
Just for tonight.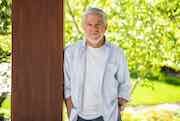 Writes Shawn Aveningo Sanders, author of "What She Was Wearing," "Like a siren's sultry song haunts the sailor, a mysterious woman floats in and out of the speaker's life. Trozzolo takes us on a poetic journey through a salacious love affair that has such a hold on him that he still sees her everywhere … The poem vignettes deftly echo the brief, dangerous moments the two lovers shared."  
Marcela Sulak, author of "City of Skypapers" and "Mouth Full of Seeds," describes the work as "equal measures sly and sincere, impenitent and indulgent. This paean to passion will charm with bittersweet delight."  
Setting it all up in the book's preface, Trozzolo writes, "What started quickly turned into -- well, I don't know how to describe it. All I know is that I've been writing poems about you for decades—still, not sure if I'll ever be able to stop or forget. And the truth -- I don't want to stop -- or forget."
To learn more, visit pasqualetrozzolo.com.
To purchase the book, go to https://amzn.to/3SHBUIB.