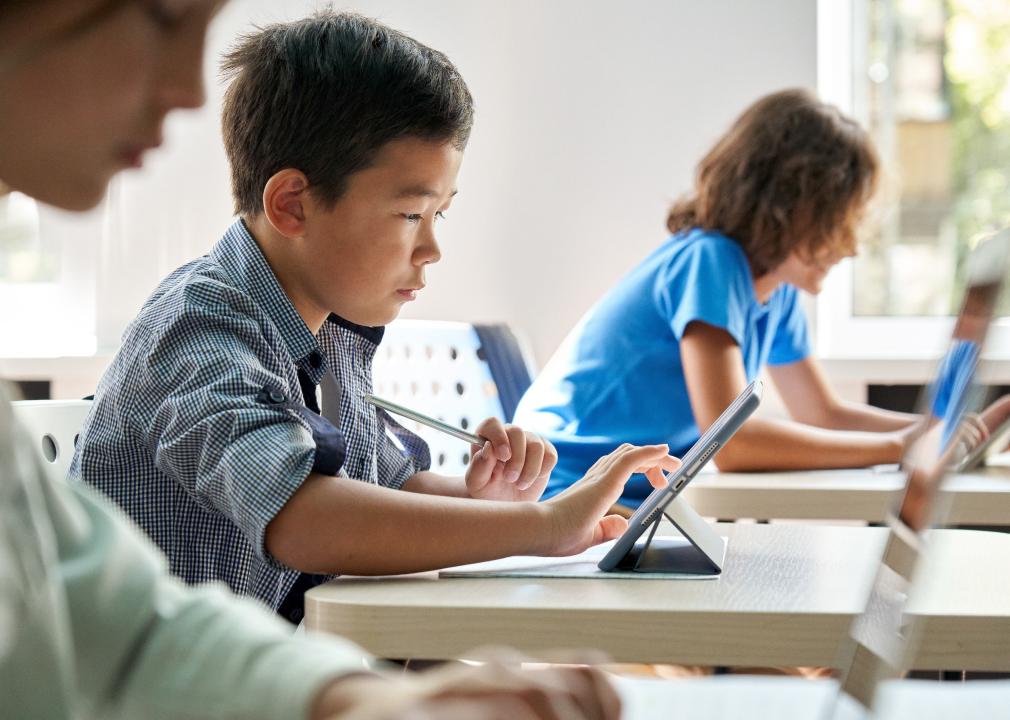 Ground Picture // Shutterstock
OpenAI released ChatGPT in November 2022, and the world of education has been abuzz ever since.
The generative AI chatbot set records for the fastest-growing user base within just a few months, sparking concern from parents, teachers, and administrators alike that students would begin using it to solve math problems or write book reports for them. Some districts, such as the Los Angeles Unified School District and New York City Public Schools, quickly banned ChatGPT. But they did so pending reviews of the technology's uses and perils.
New York has since reversed its ban, with the city's Department of Education chancellor saying he wants the districts' teachers and students to engage with AI, including learning about ethical concerns the technology raises. And while L.A.'s ban stands, the district launched an AI-powered chatbot to keep parents connected with their kids' schooling.
In classrooms, teachers discovered generative AI can help them create lesson plans and grade tests—and that's just the beginning. As schools continue to help students recover from pandemic learning loss, HeyTutor examined how tutors and teachers can use new AI technologies like ChatGPT.
The most basic way generative AI can be helpful in tutoring is through test prep. A tutor helping a student study for an important test could ask a chatbot to generate new multiple choice test questions for a practice test or create flashcards and other study aids.
Tutors working with multiple students at once could even use a generative AI chatbot as a virtual assistant: While the tutor works with one student, the other could take a practice quiz compiled by a chatbot—with oversight from the tutor to make sure all the information is accurate, of course.
Generative AI can also be a helpful tool for students who struggle with organizing information into a structured essay or research paper. Some teachers have discovered that asking ChatGPT to outline a paper can help students get over the fear of the blank page and begin writing.
Other AI tools can annotate long documents. While educators don't want students to rely on chatbots instead of reading the source material, this can be a useful way to learn how to identify the most critical information in a scholarly article or research paper.
One of the most impactful strategies teachers have tried is using generative AI as a way to deepen students' critical thinking skills and digital literacy. Rather than banning generative AI, some educators have found that critiquing ChatGPT's work live in class can be highly engaging for students.
Using ChatGPT to generate an essay and asking students to mark up any flaws in the argument allows them to think critically—going beyond rote memorization and developing a deeper understanding of the subject.
This approach also allows teachers and tutors to remind students that generative AI is not foolproof: AI chatbots are prone to "hallucinations," where the algorithm presents facts that simply aren't true. With AI-powered technologies only increasing in prevalence, today's students must develop digital literacy around generative AI's usefulness—and limitations.
Khan Academy, an online educational nonprofit, has already implemented many of these tutoring strategies with its generative AI chatbot Khanmigo. The small pilot program gave a limited number of teachers and students access to the tool for use in tandem with lessons in the classroom rather than after-school tutoring.
Instead of simply answering students' questions, Khanmigo engages them in a back-and-forth dialogue based on the Socratic method to help students with math, write a collaborative story together, interview a historical figure about their life, and more. Khanmigo isn't just an answer bot—it facilitates the learning process.
For educators and tutors who need help developing lesson plans, AI tools are available to quickly create handouts with suggested engagement activities, open-ended questions, and even student tracking to check performance. To jazz up teaching presentations, educators can tap AI to generate interactive slides that have drawings, question prompts, polls, and survey questions built into the slide lessons. If you're already collected YouTube videos, text, audio files, and bookmarked websites about a lesson topic, AI can help analyze your multimedia content and create interactive all-in-one courses or recommended lesson playlists and videos.
As with any new technology, there are concerns that AI could replace real people's jobs—including tutors. However, many educators and other experts think AI will more likely become integrated into school curriculums and tutoring companies' work in the future.
Multiple studies have shown that in-person learning—with human interaction from a teacher or tutor—typically leads to higher student performance than online learning. For example, Emily Oster, a Brown University economist, found that students who mainly attended in-person school during the 2020-21 academic year scored significantly higher in math and reading than students who did the majority of their learning online.
Many educators attribute that difference to the lack of empathy or personal connection in online learning, and maintain there's no substitute for human interaction. AI will likely become a virtual teacher's assistant, helping teachers and tutors save time by automating tedious parts of lesson planning and grading while providing more creative, dynamic ways to keep students engaged.
Story editing by Jeff Inglis. Copy editing by Kristen Wegrzyn.