Canva
Man's best friend may be becoming man's most expensive pet. Inflation has squeezed American wallets over the past year, with pet owners paying even more to care for their beloved companions. The cost of pets and related products rose 10.6% from May 2022 to 2023—over twice the inflation rate for general U.S. goods and services, per the Bureau of Labor Statistics.
This increase has affected 86.9 million U.S. households that care for an estimated 145.9 million animals, according to the American Pet Products Association. eTailPet examined the cause of pet expenditure inflation and how pet owners are dealing with the rising cost.
The COVID-19 pandemic spurred many people to take on the joys of pet ownership. The American Society for the Prevention of Cruelty to Animals found that about 23 million households—1 in 5—added dogs or cats to their families between March 2020 and May 2021.
Many factors contributed to the rise in pet health care costs, but one less apparent reason lies in the clinics, whose capacities maxed out during the pandemic. The Associated Press reported visits rose 4.5% in 2020 and another 6.5% in 2021, citing VetSuccess statistics, while new protocols increased costs and decreased caregiver efficiency. As burned-out workers quit, clinic owners had to raise wages to staff their facilities, passing much of the costs to patients.
Consolidation in the veterinary industry may also be contributing to higher prices. Freakonomics reported that private equity firms have been buying vet clinics across the country, and some employees at corporate-owned clinics have stated their companies have raised prices three times in 18 months.
While inflation is slowing—in June, the year-over-year increase for the consumer price index was 3% compared to 4% in May, according to the BLS—pet owners are still feeling the pressure. Pet food has increased 12.1% year-over-year, while pet supplies have increased 4.2% year-over-year.
Pet expenditure inflation leads other household necessities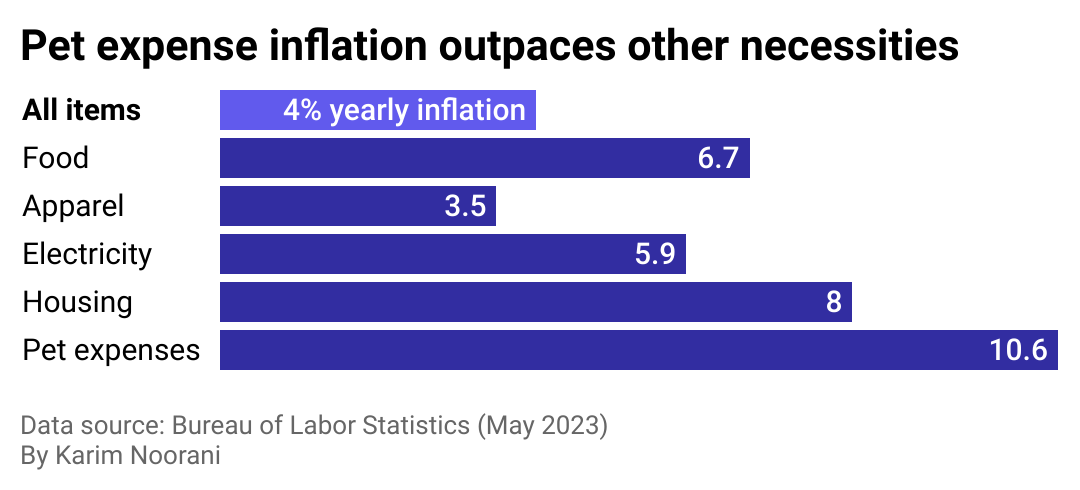 eTailPet
While prices of the total pet category have risen 10.6% year-over-year, certain elements of this category are driving higher prices. Pet supplies and accessories are up by 5.7%, which is more in line with other necessities. However, pet food prices have risen by 13.8%, partly because pet food manufacturers still haven't been able to expand their production enough to meet consumer demand.
In turn, manufacturer demand on ingredients and packaging raises the cost of making pet food, some of which gets passed on to consumers, the Star Tribune in Minnesota reported.
In response, owners have tried to look at less expensive options. Shelley DiGiovanni of Egg Harbor Township, New Jersey, recently switched dog food brands. The stay-at-home parent of two children under 2 and two dogs ages 8 and 15 saw the price of her dog food—30 pounds every three weeks—climb a few dollars at every shipment. It ultimately cost $20 more per order, "with no end to the rise in sight," said DiGiovanni.
Pet services are also up 5.6%, leaving pet owners, including paralegal Whitney Freemesser of Irondequoit, New York, to spend more. Freemesser now pays a sticker price 84% higher ($29.27) than in December 2020 for trimming her cat Penelope's claws every six weeks.
Demand for pet goods and services soared commensurately during the pandemic, which put pressure on prices in all areas of pet care—especially veterinarian care. Prices for veterinarian care have risen 19.2% from May 2021 to May 2023, according to pet industry expert John Gibbons, which has pushed owners to get creative about their pet's health care without compromising quality.
Charlotte Jackson of Rochester, Michigan, follows her pet allergist's advice and goes to a regular veterinarian for her pet cat Abby's tests for a less expensive bill. Jackson can also email her allergist with questions and photos between regular appointments, which saves her money on follow-up appointments.
Pandemic pet adoptions may be fueling the rising cost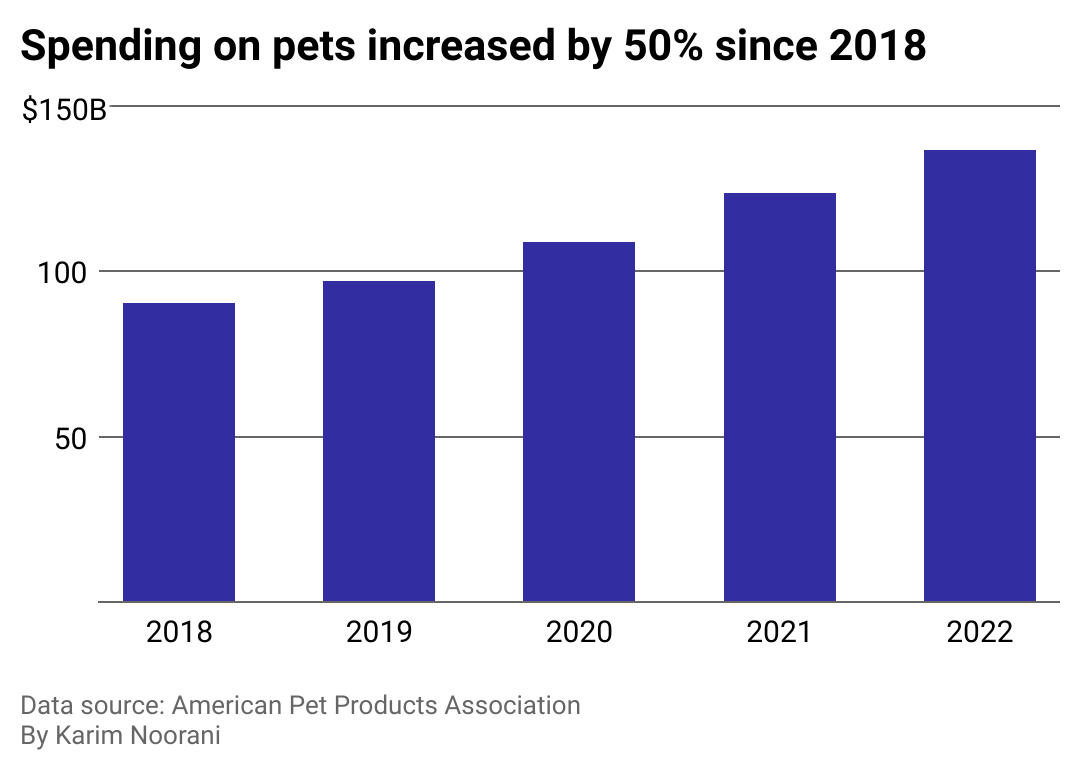 eTailPet
A rise in pet adoptions fueled a jump in spending on pet care. Nearly 1 in 5 households adopted a dog or cat during the first year of the pandemic, according to the ASPCA, as those struggling with loneliness during lockdowns looked to pets for companionship.
These new pet owners have added to the rising demand for goods and services, but owners have benefitted in return. Those who've welcomed pets into their families say it's helped them with their mental health and given them a sense of purpose, according to a study led by the University of the West of Scotland.
These new pet owners spent lavishly on their new furry friends, according to a Washington Post article. Pet parents spend on services such as pet daycare, boarding, and training to help with separation issues pets didn't have when their owners worked from home.
Owners are cutting back on their own expenses to accommodate their pets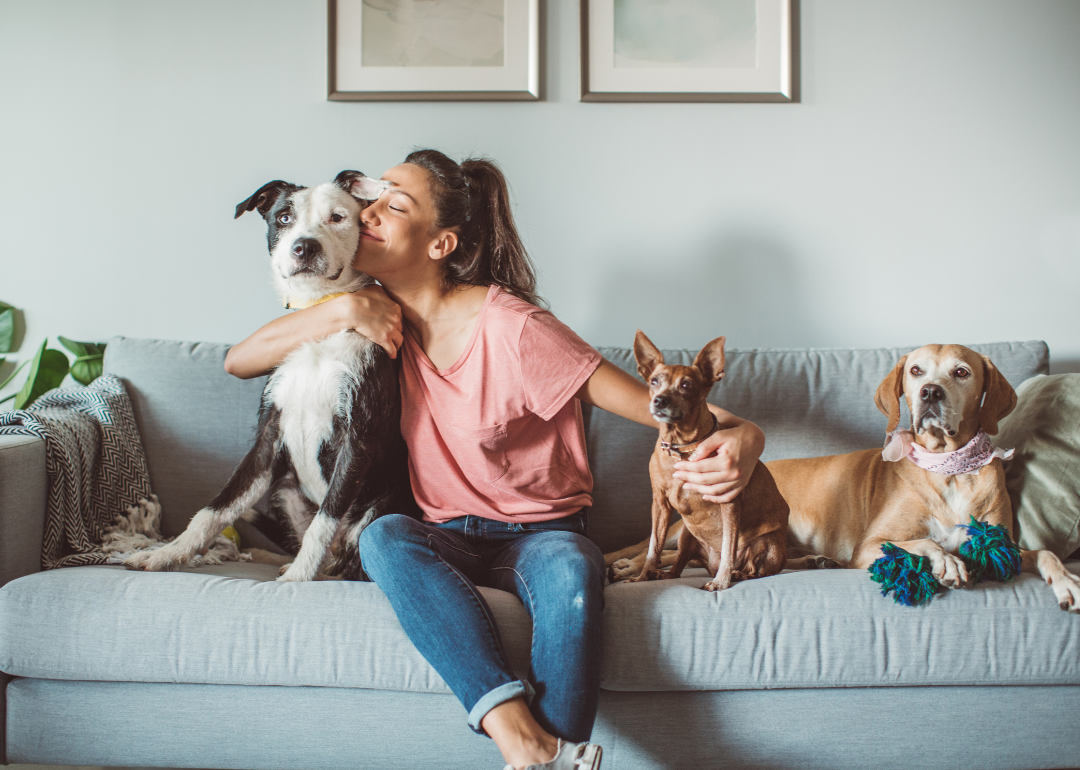 Canva
The APPA said that pet spending won't slow down anytime soon, anticipating a nearly 5% increase to $143.6 billion in 2023. Some pet owners choose to care for their pets first because of the companionship they provide. An April 2023 survey by Ally Consumer Research found that 53% of respondents would forgo a purchase to care for their pet's needs.
"I give up a lot to have my pets, before and in this present economic landscape," Andy Karol of Chicago said. Karol owns cats and recently bought a horse. "I don't go out to dinner much at all, don't take regular vacations, limit social outings, watch what I buy and where I shop."
While Karol is no stranger to the expenses a horse can have, she plans to invest in higher-quality items for him rather than continually replacing cheaper items. "Overall, I feel the effects of being nickeled and dimed more than ever now and want to know my costs more upfront," Karol said.
Story editing by Carren Jao. Copy editing by Kristen Wegrzyn.
This story originally appeared on eTailPet and was produced and distributed in partnership with Stacker Studio.