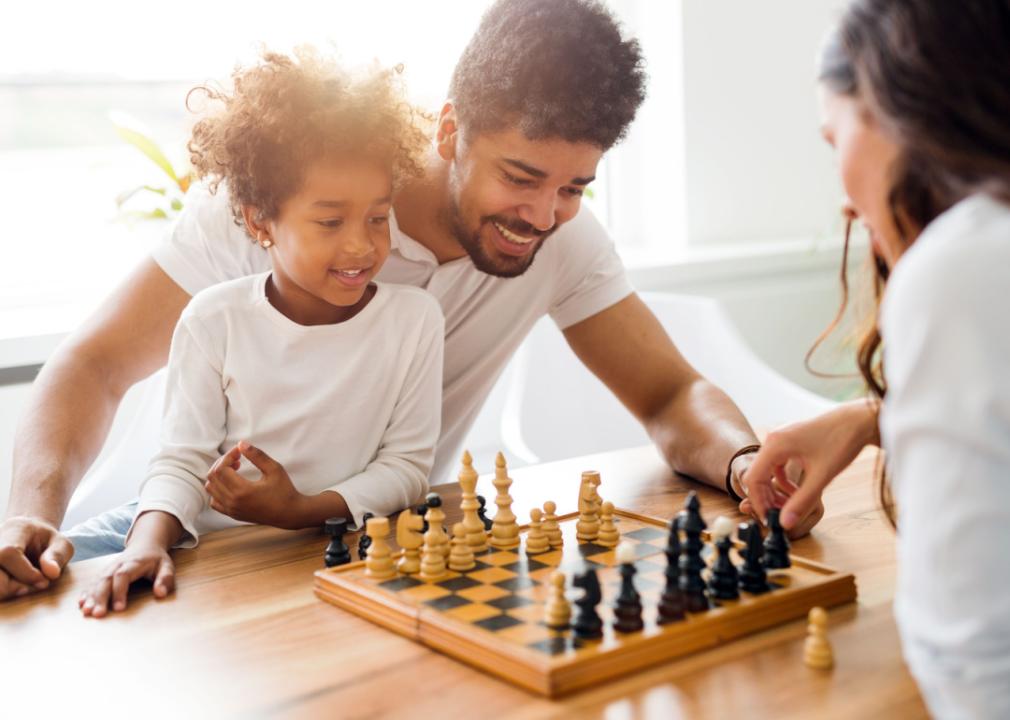 NDAB Creativity // Shutterstock
Children are participating in extracurricular activities more often than two decades ago, according to data from the Census Bureau, but participation rates vary significantly along demographic lines such as income level.
For that reason, schools and organizations are working to bridge the access gap and provide opportunities for play and skill-building regardless of income level.
HeyTutor leveraged Census Bureau data to explore variations in extracurricular participation among children ages 6-17 and explored how parents can support kids in finding the right extracurricular activity for them.
Core educational requirements are designed to offer foundational lessons and a launching-off point for future studies and career development. But access to extracurricular activities, which often speak more to an individual's passion—whether sports, focused academic pursuits, or the arts—offers a proven leg up for social development, academic achievement, self-esteem, and community involvement. That's because many extracurricular activities, from chess and Scouts to music lessons and dance, reinforce many of the same lessons and skills applied to core requirements but in a real-world setting that is often more focused or creative.
Extracurriculars allow individuals to flourish in other ways, such as helping to develop hobbies (essential for self-expression and self-esteem); nurturing healthy group dynamics; fostering a sense of leadership; and underscoring the importance of hard work, endurance, diversity, and a sense of community. These activities can also be a boon for people with difficulty learning in a more traditionally structured school environment, affording opportunities to excel outside of standardized tests or lecture settings.
Young people who participate in extracurricular opportunities are shown to have more consistent school attendance, academic achievement, and continuing education after high school.
The trouble with extracurricular activities is that they're not equally accessible to all families. Research shows that children at or below the poverty level often experience lower extracurricular participation. The reasons for this are varied: Researchers have found that many extracurricular programs pose a monetary barrier to entry for activities requiring special equipment or other costs, family or work responsibilities may pose logistical challenges such as transportation to and from after-school programs, and other programs may represent cultural barriers to entry or alienation for some students. While no- and low-cost options, such as volunteer opportunities, exist, people still have to manage logistical requirements to participate. Financial aid is also underutilized: Fewer than 1 in 10 parents (7%) who responded to a C.S. Mott Children's Hospital National Poll on Children's Health requested a waiver or scholarship.
When encouraging a child to take an extracurricular activity, the Child Mind Institute advises taking it slow and guiding them toward activities in which they have strengths and interests. Praise success and new skills for their own sake without connecting them to some future goal, like getting into an Ivy League school.
Sports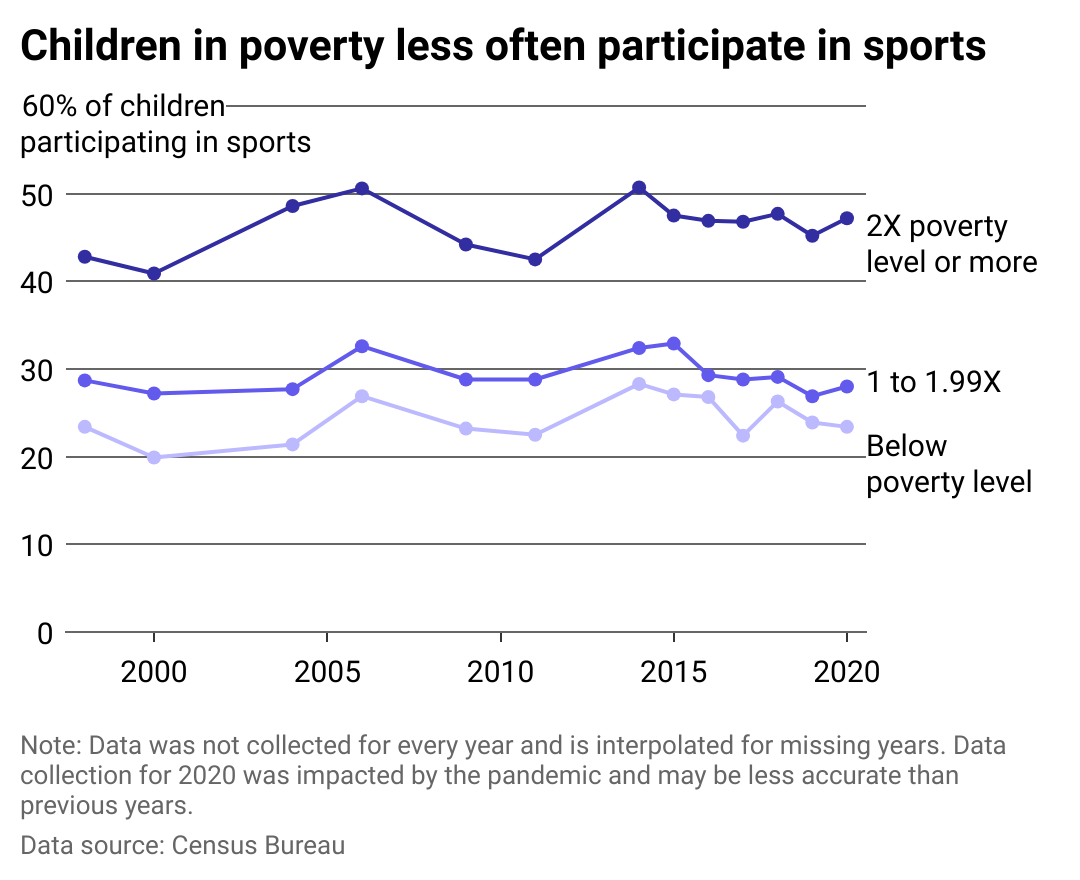 HeyTutor
Youth sports—such as basketball, baseball, soccer, tennis, flag football, or gymnastics—offer children many opportunities, from physical and social to emotional and academic. Research shows that participating in sports is associated with improved teamwork, social skills, empowerment, personal responsibility, determination, and critical thinking.
However, children in poverty are less likely to participate in sports and can miss out. One of these reasons is that while the costs of these activities are increasing, school funding for them is decreasing, placing greater financial burdens on families with lower incomes. Time commitments around sports are also another strain for families living in poverty.
Nonprivate youth sports leagues could help improve participation across income levels, according to the Aspen Institute's Sports & Society Program. Play opportunities at local community centers and parks improve youth sports participation. Professional sports teams and organizations have tried to bridge the access gap. The U.S. Soccer Federation installed mini-pitches at over 500 parks nationwide, and the Pittsburgh Pirates' "Fields for Kids" program provides funding for local leagues.
In school settings, coordinating carpools or establishing transportation programs can also incentivize participation for working families who otherwise rely on school buses for getting their children home.
Clubs and extracurriculars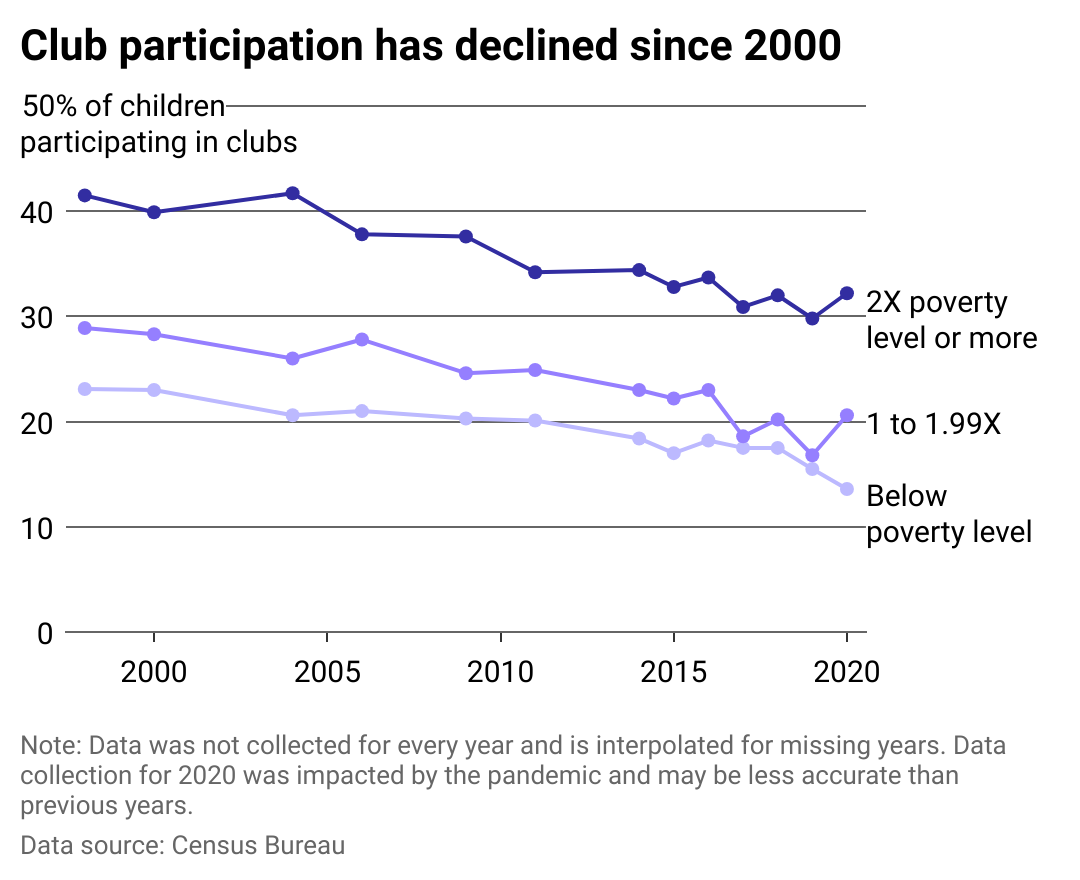 HeyTutor
Clubs help kids make new friends, gain self-confidence, learn teamwork, and develop time-management skills. Being in a club such as yearbook, theater, sports, or outdoors and even taking part in role-playing games gives students the chance to "apply academic skills in a real-world context," according to the National Center for Education Statistics.
Club participants report better attendance and are likelier to perform better in math and reading. Club participation, however, has been on a downward trend since 2000 and—after municipal budgets and programming were cut in response to the 2008 recession—began a steeper decline. This decrease in supply and support will be more acutely felt by families with lower incomes who are less capable of filling the gap.
According to the Afterschool Alliance, more kids from lower-income households would participate in clubs and sports if more programs were available. Additionally, the organization found bipartisan support for better funding for after-school programs. COVID-19 educational relief funding has helped some, with 8 in 10 schools investing in after-school and summer programs.
Lessons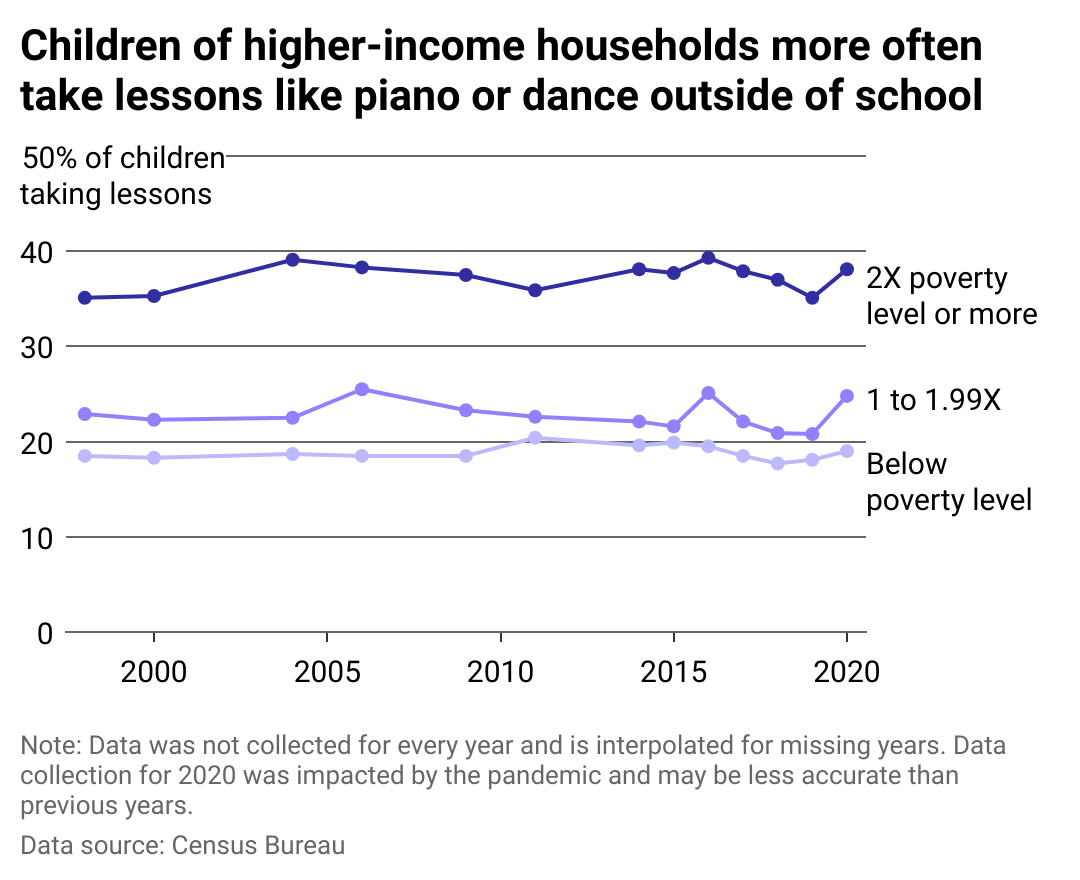 HeyTutor
Families may choose additional enrichment opportunities for their children beyond school through group or private lessons in specialized topics. Some popular options include piano, dance, acting, art, foreign language, swimming, tumbling, gymnastics, archery, horseback riding, and martial arts. These lessons can benefit children in more than just getting better at the specific activity. Perseverance, grit, creativity, problem-solving, confidence, focus, and motor skills are just some additional skills kids can pick up from extracurricular lessons.
Private teaching isn't the only way kids can hone in on a hobby outside school. Park districts, libraries, community centers, and churches have become low-cost lesson settings. Barriers to participating in lessons can also come down to the materials' costs. Nonprofits like Good Vibrations in Omaha, Nebraska, provide new and repaired instruments for musically inclined students at low-income schools.
COVID relief funding also included community centers. One center in Wilmington, Delaware, is spending a $4.5 million American Rescue Plan grant on a new facility that will double its capacity to expand programs like art, dance, and karate.
Story editing by Nicole Caldwell and Ashleigh Graf. Copy editing by Paris Close.
This story originally appeared on HeyTutor and was produced and distributed in partnership with Stacker Studio.